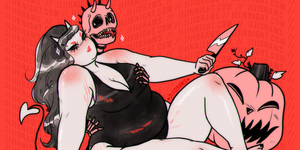 Welcome!
DECAL DEMONS
BECOME A PATRON
✶ JOIN THE KNIGHTMARE COVEN ✶
You're sold. You're a forever fan. You like what I do and you want to support it, so: come join me and over 400 others on Patreon!
Perks start at the ~CHARMED~ tier! Perks like early new product access as well as access to the SECRET PATRON GOODS like sticker club archive! And did I mention: Discord access?
For as little as $2 a month, you're helping me make it possible to bring more wonderful babes into your life. (Or! 21.60 for the whole year! You save 10% annually.)
(ノ◕ヮ◕)ノ*:・゚✧
JOIN US TODAY ☾